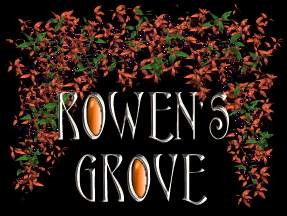 Welcome, traveller, to my humble grove. I invite you to take a moment and explore the many worlds that make up my home on the Web.
To new visitors, I bid you welcome! This grove is a bit of a hodgepodge of some of my many interests. I hope you enjoy your stay, maybe even take a moment to sign my scrolls to tell me what you think of my place, and come back to visit.
To my return visitors, thank you so much for coming back! I have redone the grove in honor of the upcoming Holiday season, and hopefully improved the place in the process. If you would, I would greatly appreciate your taking a few moments to sign the scrolls so you can give me your opinion about the new look and design.
And to one and all, have a joyous Holiday season. May you find much happiness and joy, no matter what holiday you happen to be celebrating!

Allow me to give you a quick guide to the grove:





This page last updated December 3, 1998.
Artork on this page is copyright 1997 by Moyra of Moyra's Web Jewels. Content of this page is copyright 1998 by Stephanie M. Jones.